 100% SATISFACTION GUARANTEED

EASY & FREE RETURNS IN 30 DAYS

OffordCare Compression Socks
OffordCare offers premium compression socks for all your favorite activities. Whether you need the best compression socks for running, walking, home workouts, or for everyday comfort, we have a pair for you. Designed in the USA, our OffordCare Compression Socks improve circulation, accelerate recovery, reduce muscle soreness, help prevent swelling and varicose veins
SOCKS THAT FIT Your Needs!
Our Graduated Compression Socks put pressure in just the right spots to increase blood flow and help repair broken down soft tissue.
If you're a sales person or nurse on your feet all day, a frequent traveler, an avid marathon runner or battling chronic soreness, our compression socks will help you feel better.
OffordCare Compression Socks is guaranteed to improve your legs blood-flow, reduce swollen legs and energize tired and achy legs within 30 days or your money back, no questions asked!
TECHNOLOGY AND SCIENCE
Through our socks, we are extending its natural property to rejuvenate blood circulation through your legs through copper fibers capable reviving blood circulation along with providing a 15-20 mmHg compression. Best Copper embedded fibers pulls the electricity from your body to relieve your pain and allows you to heal.

THERMAL STABILIZER
Breathable high performance fabric keeps an optimal temperature. Anti-Itch UPF 50+ material, it's ergonomically designed for full range of motion, superior comfort and mobility without chafing & irritating.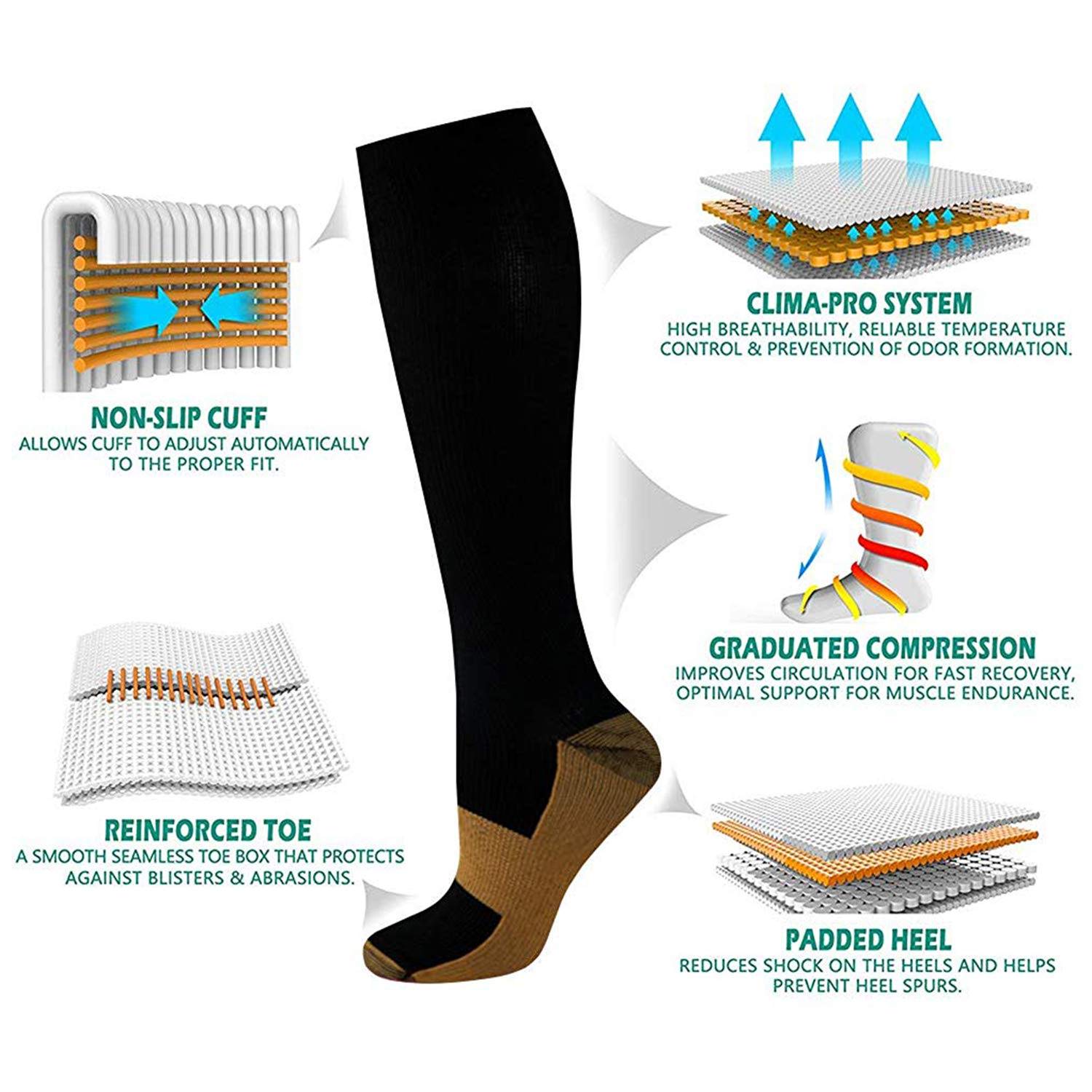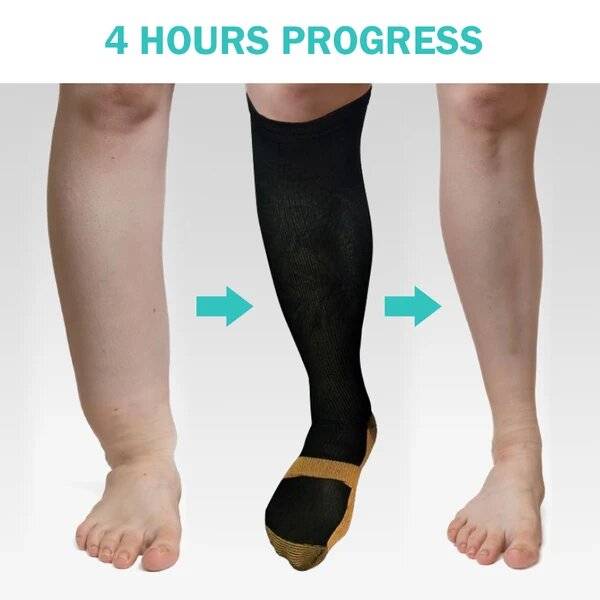 SEE A DIFFERENCE IN 4 HOURS
Look and feel the difference.

It's easy to see that swollen and tired legs prevents a confident look, but did you ever wonder how healthy energized legs feel? Especially healthy and relaxed legs that comes naturally from wearing the OffordCare Compression Socks on a daily basis.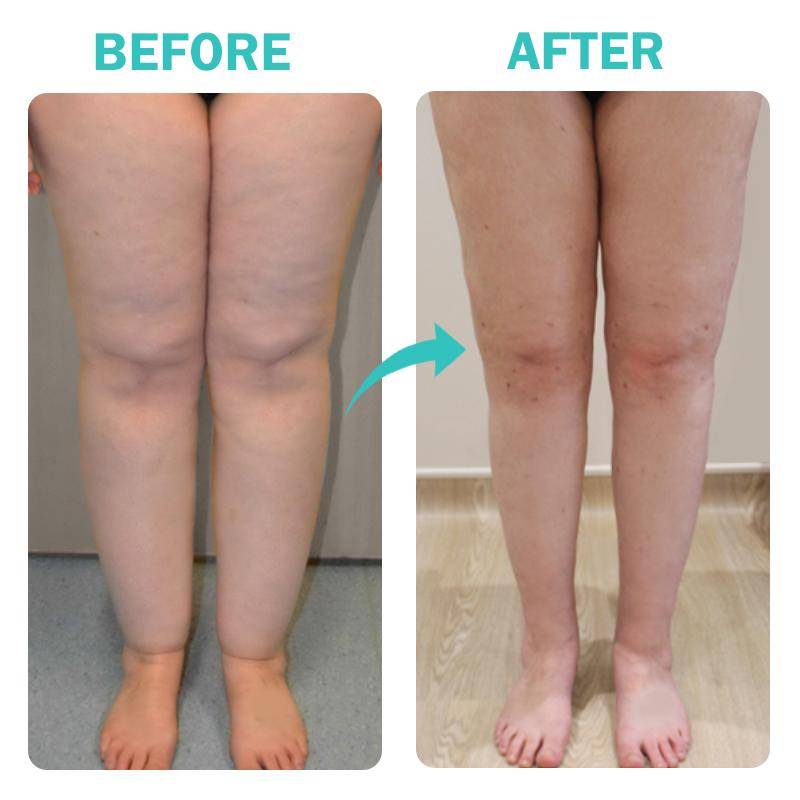 "Works great, no more tired aching legs.."
I use this product for swelling of my legs ankles and feet. I have a desk job which requires me to sit 90% of a 12 hour shift. These socks work better than expected. Previous socks would slide or roll down by the end of the day making my legs look like an hour glass at times. But these socks stayed up. Even after several washings they are still holding up well. By the end of my shift now ,I would say the swelling has been reduced at least 80%.Very pleased with this product.
Frequently Asked Questions
What fabrics are used in the socks?
85% Nylon, 10% Polyester, 5% Copper Fiber
Can i wear these when i go to sleep at night? Do they help with leg cramps or help blood flow?
They do help with blood circulation but we do not recommend to wear it for sleep.
How doI wash or launder these socks?
You can hand launder them with a liquid soap & rinse thoroughly. Other times, you put them in a mesh bag, zip it, and put them through a warm wash cycle with the rest of the laundry. You can dry them on a drying rack, turning them right side out.
My calves is 16 inch.What size do I need ?
A: Just measure your shoe size. For calf is 16" and they fit well with L/XL.
We send out a new pack of super fun socks to your door every 1 ,2 or 3 month(s) based on your subscription. We founded the company in 2015 just in time for Valentine's Day, as we figured monthly sock deliveries might be a better alternative to stuffed bears, heart-shaped boxes full of chocolate, and/or red roses.

Get Your Compression Socks Every 1 or 2 Months. You customize the perfect plan for your need.

We'll try to deliver the perfect pairs every time to your doorstep

You don't have to worry about restocking, It'll be like Christmas every month!
Keep your legs FRESH with the OffordCare 15-20mmHg Compression Socks. Use them for relief, prevention and recovery. Travel, exercise & work pain-free and with ease!